Membership
Team Impact Ministries issues four types of ministerial credentials. The type of credential issued is based upon the description of the candidate's ministry experience and/or education.
Credentials are valid for a period of 12 months after which time members must renew their credentials:
Affiliate: For anyone who has a definable full or part-time ministry such as the pastor of a local church, apostle, prophet, evangelist, teacher, Christian Counselor, Christian educator, marketplace ministry, etc. Membership in the network is for those who are already ordained through other organizations or ministries but would like to be a part of what Team Impact Ministries stands for and is doing. They will be able to participate as a full member, and network with other like-minded and like hearted ministers. Candidates must have a proven ministry for a minimum period of five years.
Ordination: This category of membership is for those who have a clear calling to ministry and wish to be ordained by Team Impact Ministries. Candidates must be possession of a minimum of a 120- credit Bachelor's Degree in a ministry discipline or equivalent. Candidates who have a proven ministry for a minimum period of five years will also be considered.
Pastor in Training: This category of membership is for those people who are currently serving within a ministry that is in the process of training them towards becoming a five-fold minister. This registration category is ideal for pastors who already have students who attend their Bible Colleges and who would like to have accountability for their Pastors in Training from the start of their training up until their ordination and commission.We encourage all Team Impact University students and graduates to become a member of Team Impact Ministries. We also welcome those who are currently enrolled at other Bible Colleges and Universities to become part of Team Impact Ministries as this credentialing will bring accountability and integrity to their callings as they progress.
Business affiliate: This category of membership is for those people who God has called to be Kings in the kingdom. Many times our focus is so on formal ministry, we forget that God has called many to be Kings in the Kingdom. We would like to extend an invitation to those men and woman of God that He has called to business and finances. This category of registration is for both the individual and business to be registered with Team Impact Ministries. We want to make an IMPACT in the business world, and together networking the businesses of the Kingdom of God we can. We will also connect business people of like mindedness to assist one another in both business acumen and prayer.
Benefits of being associated with T.I.M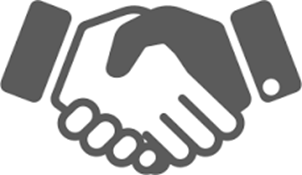 Accountability
Biblical accountability cannot be done by an organization. It must be done through relationships.  You will have the opportunity to meet peer level ministers who may have more experience or knowledge than you. This valuable opportunity can only come through meeting and building relationships with those ministers, ministries, and churches with who you are in one accord.
Team Impact Ministries will provide legal and spiritual recognition of the calling and ministry God has already placed on you. Together we as a body will assist you in the fulfillment of that ministry. There is great power in unity and so much more can be achieved if we are one! The last prayer that Jesus prayed before he went to the cross was: "Father let them become as one", that prayer is still a call to the Body of Christ today.
Fellowship
Team Impact Ministries provides fellowship and relationship between independent churches and ministries of like faith while maintaining local ministry sovereignty and control. There will be opportunities for corporate missions involvement, fellowship gatherings, youth programs, and other ministries. Currently Team Impact Ministries is taking advantage of the current age that we live in, social media platforms are a great way to connect and Team Impact Ministries has a vision to interact with pastors and leaders on these platforms as well.
Education
Team Impact Ministries is in association with Team Impact Christian University USA and you will be able to further your studies from Certificate to Doctor of Ministry level at discounted prices. This will help to develop you as a leader as well as your ministry. For further details, please go to www.tiuniversity.com.
Pastors and Christian leaders can begin their own ministry-based schools by registering with Team Impact Christian University USA and implementing their courses. With this form of schooling, pastors and Christian leaders can become Dean of their own Bible College and mentor their own leaders.
Connection
You can enjoy a relationship with those who will affirm you without trying to control you and help you without trying to dictate you.  You know what you're calling and ministry gift is and connection will provide confirmation and affirmation from others in ministry.
Consultation
You have others to call on for input and will have access to insights, strategies for more effective ministry, problem solving guidance, and confirmation in the way God may be leading you.
Covering
You have the protection, credibility, and affirmation of relational accountability without being controlled or put in a box. There is no longer a feeling of "standing alone" or being isolated and nor is there a feeling of losing your identity or uniqueness and ability to minister. You and your ministry are under a corporate prayer covering.
Members do not have to end any other affiliations in order to be a part of Team Impact Ministries.
Care
You will have access to pastoral counseling by experienced, anointed ministerial mentors who can encourage, help, and love you. You will be able to share your victories and tragedies, disappointments and discoveries with others who really care about you without fear of judgment, criticism, or rejection.
Legal standing
Membership enables credential holders access to jails, prisons, hospitals, nursing homes, psychiatric centers, and other institutions requiring authority endorsements. We can help you with the performance of religious legal ceremonies such as marriages. However, the level of support could vary in accordance with the laws appertaining to the nation in which you live. We will also be able to advise you how to register your ministry as a not-for-profit incorporation.
Conferences
Team Impact holds regular national and international conferences. Members will have preferential participation, seating, and pricing and will be able to meet other men and women of God in other nations.
Website resources
You will be able to logon to our website and download a full sermon every week, quarterly newsletters as well as many other teaching materials such as eBooks and Seminar training series which we offer free of charge.
Certificate
You will also receive a certificate of membership with Team Impact Ministries which you can display in your office, ministry area, or home. You will also receive a wallet-sized card with your photograph.
MEMBERSHIP CERTIFICATE: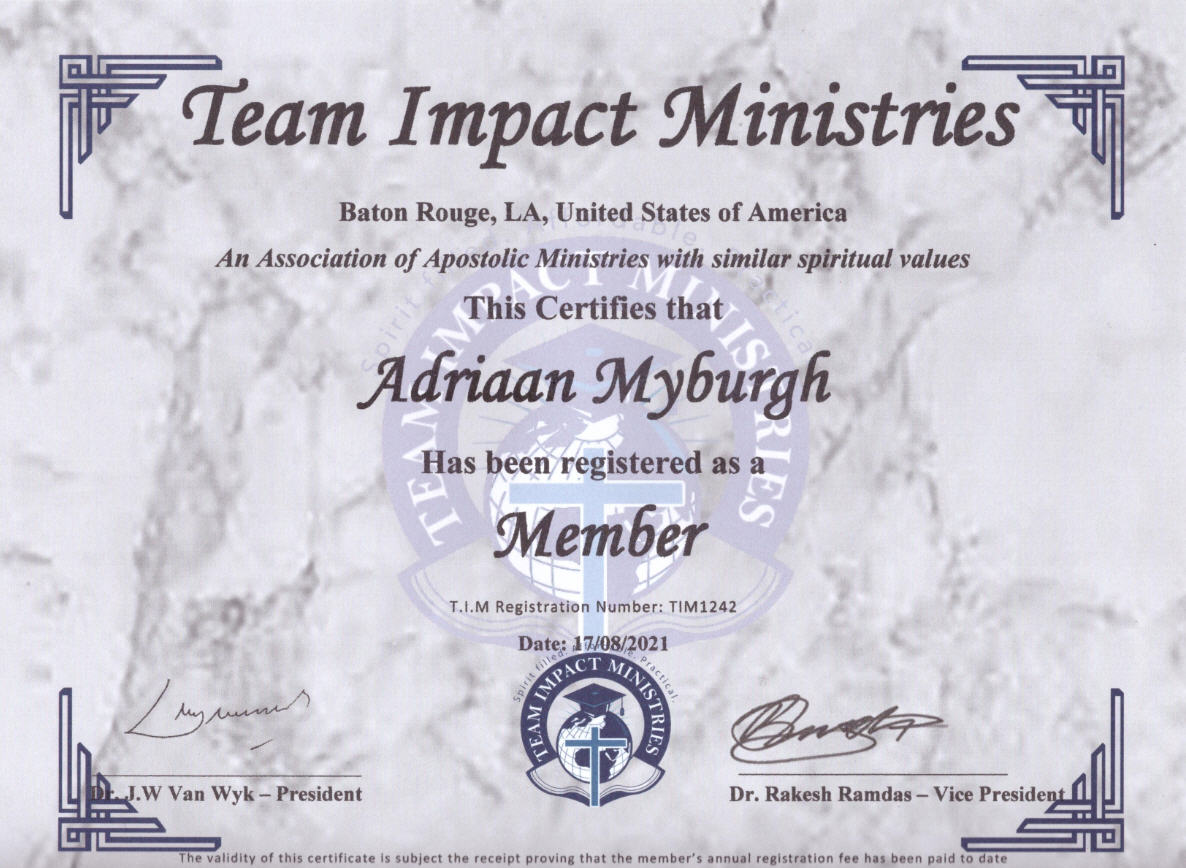 MEMBERSHIP CARD:
Requirements to become a member of T.I.M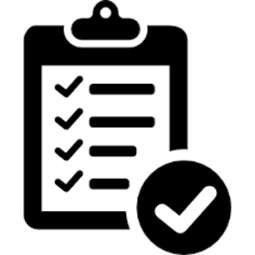 Your willingness to align with us is voluntary and should be based upon a sincere desire to follow the leading of the Holy Spirit in doing so. As you voluntarily join our ministerial ranks, you agree to cooperate and participate in our network of ministers and churches in doing the work of the ministry.
Individuals must meet certain criteria before receiving credentials, or transferring their ministry credentials from another governing body, whereupon they will be included in the Team Impact Ministries network.
Calling
There should be evidence of a call to ministry in accordance with Acts 13:2 and have a testimony to having received the baptism in the Holy Spirit with the initial physical evidence of speaking in tongues in accordance with Acts 2:4.
Affirmation of Others
There should be strong affirmation of call and character from other Christian leaders in accordance with 2 Timothy 1:18.
Character
There should be evidence of character in harmony with the standards laid down in accordance with 2 Timothy 3:1-13.
Conduct
Applicants must conduct their personal life, family, finances, and ministry in agreement with the principles and moral standards of Scripture that is clearly established on the character of Christ. They should also hold an exemplary reputation and testimony with those outside of the body of Christ.
Programs
Members should attend as many Team Impact Ministry functions and meetings as possible especially those that are organized locally. Attendance of international events, although recommended, is voluntary
Minimum age
Applicants must be 23 years of age or older. (Unless the applicant is a "Pastor in Training", then the minimum age will be 18 years and older)
Fees
Each credentialed minister affiliated with Team Impact Ministries will be required to pay an annual affiliation fee of US$100 whereupon they will be issued with a certificate of membership and a wallet-sized card valid for 12 months.
For South African affiliates this annual affiliation fee is R500.00
Members may make a voluntary commitment of regular financial support to Team Impact Ministries if they wish to do so.
Application
Candidates must have a stated desire, by application, for active partnership and participation with Team Impact Ministries.
Legal responsibility
This affiliation does not constitute legal responsibility of Team Impact Ministries if a minister is brought into a lawsuit or legal matter. This is not a blanket approval, but recognition of God's call and hand on the life of the minister, and the gifts within the minister. Team Impact Ministries will be released from all liability in any personal decision or action that the minister may take, either professionally or personally. Team Impact Ministries acts in good faith in assisting fellow ministers reach the all nations with the gospel of Jesus Christ.
Commitment
"Since we have entered into covenant with God by accepting Jesus Christ as our Savior, being baptized into the Body of Christ as believers, making a public confession of our faith and commitment to Christ in water baptism, and now accepting the calling and leading of the Holy Spirit into the gospel ministry, we do joyfully and earnestly enter into relationship and fellowship to serve together as one with each other in the body of Christ.
We commit, therefore, by the aid of the Holy Spirit, to walk together in Christian love, to keep a spirit of unity in the bond of peace, and to minister to one another's needs. We pledge to watch over one another in brotherly love, to pray for each other, to exhort and encourage each other in our Christian walk, to help each other in times of need and crisis, to rejoice with each other in times of triumph, to weep with each other in times of loss, to speak the truth to each other in love, to be slow to anger with each other, to be quick to listen to one another, to be careful not to offend each other, and always be ready to forgive one another and reconcile speedily."
MEMBERSHIP APPLICATION PROCESS:
Download the PDF membership application form.
Complete your membership form, sign it and email it back to us along with a photo of yourself (Jpeg format please), as well as your supporting documents
Email all applications to: info@teamimpactministrires.com
Upon approval of your membership you will then be issued with your TIM welcome letter, as well as your membership invoice for annual membership fees
Upon receiving your proof of payment we will send you your membership pack.